Come check us out at these events! We are so excited to see what the next year will bring! Events are always our most fun times of the year!
We will be set up in booths at the following events:
---
Saint Charles Boat Show: March 4-7th, 2021
1 Convention Center Plaza, St Charles, MO 63303
Click above for address and directions!
This proves to be one of our favorite shows year after year! We can't wait to see you at the St. Charles show!!
---
April In-Water Boat Show: April  16-18th, 2021
Click above for address and directions!
This is a fun-filled show! Come ride in the newest boats and see the hottest products on the market! Join us for the kick-off of the 2020 boating season!
Come see us on the Boardwalk! Check out all of the new renovations for Dog Days for the upcoming year, including a POOL! This boat show will have a lot of new ideas in store to make 2020 great on and off the water!
---
2021 Shootout: TBD
Click above for address & directions!
Join us for the fastest weekend at the Lake of the Ozarks! The Lake of the Ozarks (LOTO) Shootout is the largest unsanctioned boat race in America. This will be the 33nd year of the Shootout!
This is one of the most popular events at the Lake of the Ozarks. There are many events surrounding the boat races in the weeks leading to the Shootout. We will keep you up to date on these!
Head to LakeOfTheOzarksShootout.com for more information!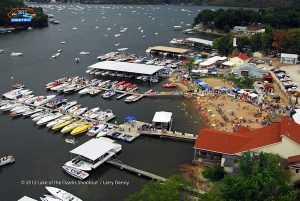 ---
We are a proud member of Lake Ozark Marine Dealers Association (LOMDA) and the National Marine Manufacturer's Assocation (NMMA).

For more information, check out the LOMDA boat show website:
http://www.lakeozarkboatdealers.com/mo-boat-shows.asp 
Check the page often as more events are added!